SUNDAYS @ 10.00 AM | AGES 1 – 12 | FELLOWSHIP HALL (LEVEL 1)
OUR CHILDREN'S MINISTRY
offers programmes for children between ages 2 to 12, separated into classes based on their age groups. Our curriculum involves worship, bible study, games, and special excursions that will enrich our children's knowledge of the Bible, as well as teach them biblical lessons that will serve as a foundation to their faith as they grow and mature into disciples of Christ.
We are currently looking for parent-helpers to assist our teachers. If you are interested, please click on the link below and indicate your name under the month(s) you are available to assist:


The Children's Ministry programme is divided into different age groups, each named after the fruits of the Spirit (Galatians 5:22-25).

FAITHFULNESS (AGES 2-6)

@ Fellowship Hall (Nursery Room)


KINDNESS (AGES 7-9)

@ Unit 32A (Room 1)




GENTLENESS (AGES 10-12)

@ Unit 32A (Room 2)



Click on the link below for more information on class schedules and weekly lesson topics:
http://gg.gg/elbccm


Mini Olympics @ 8 October 2022, 9.30 AM – 11.00 AM
Singapore Indoor Stadium (Outdoor Track)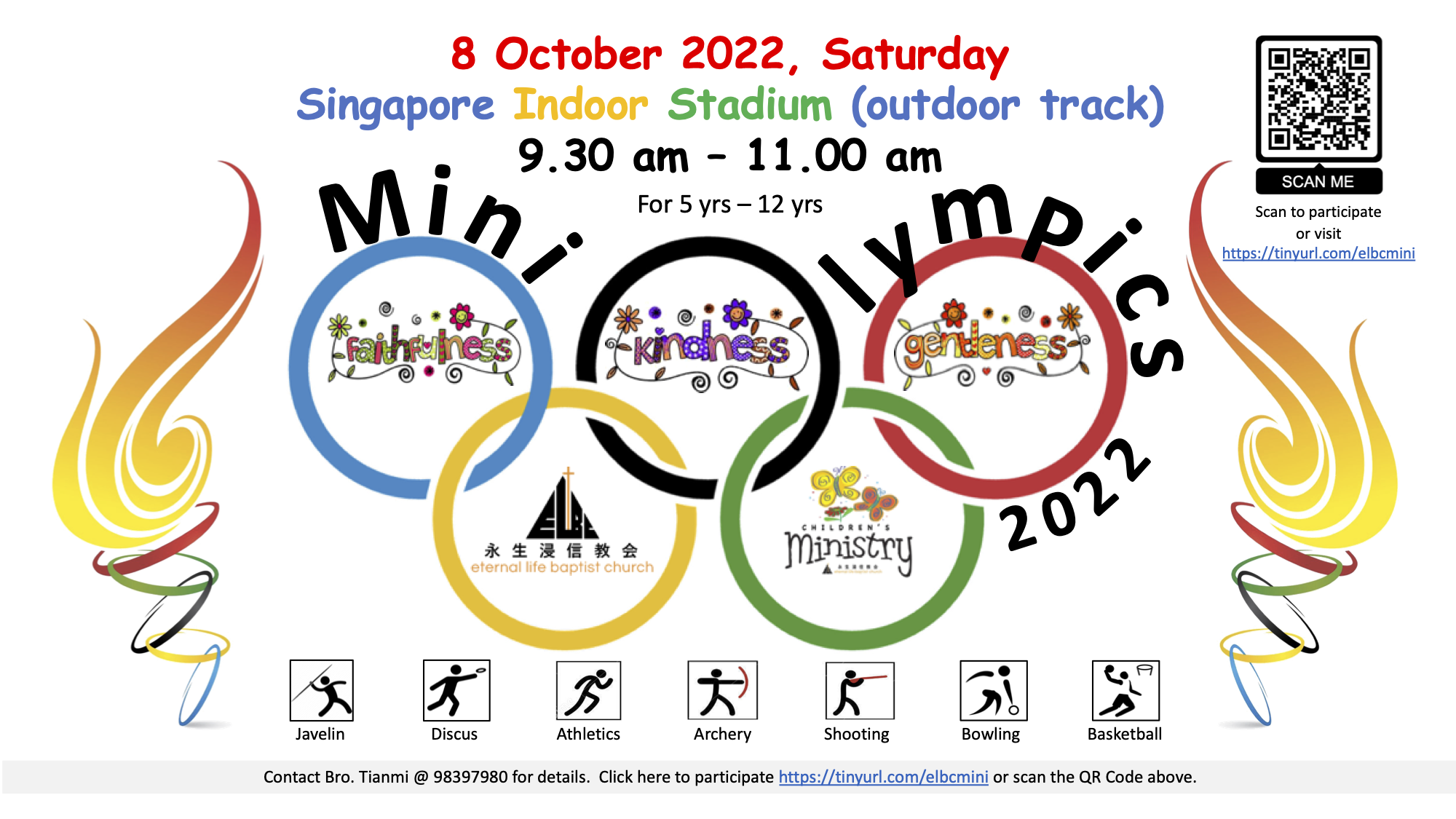 Join us for a time of sports and fun at the ELBC Mini Olympics, organized by the Children's Ministry at the Singapore Indoor Stadium. Some of the sports and activities include javelin, discus, archery, bowling and more! Open to children between the ages of 5-12 years old.
Deadline to register by Sunday, 2 October 2022.